TEXT "HOLISTIC" TO 561-510-9605
For daily holistic motivational
messages
Congrats! You've just discovered a hidden gem. This website is a holistic hub to help you grow, a guide to assist you along your journey. We all meet teachers that help us grow and I just have one question for you:
how are you

looking to grow

?
You're probably wondering who I am and why I do this, right? I will share more about myself as we go along but I want to make sure you don't leave without finding one resource to help you grow.
Personal Development Principles
at schools, non-profit organizations, corporate and events. (Virtual or In-Person)
people to create a holistic lifestyle that will create a fulfilling life.
articles and books on holistic health and wellness and personal development.
industry experts and people with a story to share.
I did say that this website is a holistic hub for personal development so keep scrolling to watch content and read articles that will help you grow.
Common Questions that Lead to Growth
I want to change my life and be happy, how can I do it?
---
The answer to this question is not one thing but a series of lifestyle changes. There's no way that I can tell you how to change your life in a paragraph but I can let you know what changed my life. 5 years ago, I started a holistic journey of self discovery and I wasn't sure how to handle stress, anxiety and the uncertainty that I faced as a young adult learning how to navigate through this cold world. Along the way, I met teachers and guides that gave me the structure I needed to form my own path and carve out my own life direction. As I spoke to more teachers, I realized that the happiest of them had a "Holistic Lifestyle", they mindfully curated a whole mental, physical environment that encouraged holistic growth and health. They did this through the way they ate, the way they spoke, the things they did, and the way they thought. I realized that people's lives are a result of their lifestyle choices and if we simply choose a holistic lifestyle, we can change out lives and release our inner joy. If you want to learn how to start the process of starting a holistic lifestyle, watch the following video: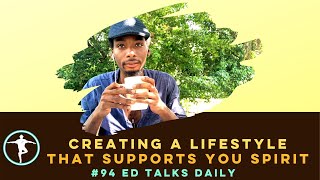 ---
I am always tired, I feel lazy and I have no energy all day. What can I do?
---
---
---
Inspiring

stories and personal

development

principles.
Join me on this journey to becoming the best version of ourselves. If you want a podcast that you can relate to, a podcast that will motivate and inspire you all while educating you on ways to personally develop and grow as a human being, Ed Talks Daily is for you
A personal development talk show that serves as an educational platform, featuring millennial stories and self-improvement segments. The Unlimited Power Show is a go-to for mental, physical and spiritual health. The concept of this show is matchmaking millennials seeking answers with people who experienced a similar challenge or professional that can help them grow out of their challenge.
R

ead

personal development articles.
TEXT "HOLISTIC" TO 561-510-9605
For daily holistic motivational
messages